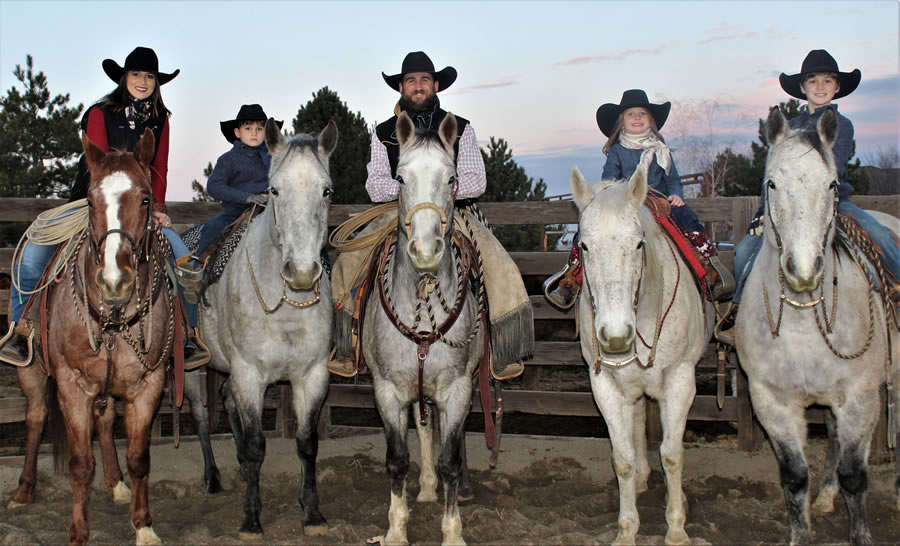 Wade and Amaia Black Family
Training for the Cross, LLC, is a family owned and operated business focused on producing well rounded bridle horses and providing Industry Quality Standards and Industry Certifications in training horses for the public.
Wade was born on the Stampede Ranch in Nevada, and grew up riding with the buckaroos. At a very young age he was roping, moving cows, and working with the cowboys on the ranch managed by his dad, Martin Black. At age 10, his family moved to Idaho, where they bred, raised, and trained horses for the public. Wade helped his dad start colts, and rodeoed in high school, becoming a state and national high school rodeo contender. Wade earned a rodeo scholarship in Saddle Bronc riding at Montana State University, where he received a BS in Equine Science, and a MS in Equine Nutrition. Wade also taught colt starting classes at MSU for two years.

Wade has spent time in Kentucky training racehorses, in Texas training cutting horses, and at different cow camps in Idaho and Oregon. Horsemanship is in Wade's blood. He comes from a long line of horsemen, including his dad, Martin Black, grandfather, Ray Hunt, and uncle, Bill Van Norman.
Wade directs the Equine Science program, and teaches horse production and horsemanship classes at Treasure Valley Community College in Ontario, Oregon. He lives in Homedale, Idaho with his wife Amaia, and children, Teo, Josie, and Cy.
Objectives
Produce well rounded bridle horses that have been used on the ranch, shown in the arena and ridden by everyone in the family.
Through TFTC's Training Quality Assurance help set a reasonable industry quality standard, and provide Horse Training Industry Certifications for people training and selling horses for the public.
Provide a business model and endorsement for students graduating from TVCC and seeking employment in training horses for the public.
Offer an online bible study and support group for Christians trying to run a successful equine, ranching or rodeo business without losing their identity in Christ.